SIMULTANEOS 3-IN-1 TECHNOLOGY FOR OPTIMAL SERUM DELIVERY

Removal of dry damaged skin cells

Deep cleansing of skin surface of pores

Delivery of condition-specific serum deep into the skin
SilkPeel Dermalinfusion or simply, SilkPeel Dermalinfusion is a safe and painless skin care procedure that treats and improve the apprearance of various skin conditions. The procedure provides non-invasive exfoliation and delivery of skin-specific topical solutions under pressure, leaving patients with fresher-feeling and better-looking skin. Compared to other skin care procedure that associates with chemical peels or uses microdermabrasion, lasers or other invasive treatment, SilkPeel Dermalinfusion does not use crystals or other abrasive particles that can irritate or bring discomfort to the skin. The procedure is more comfortable with mild treatment that leaves skin smooth to the touch.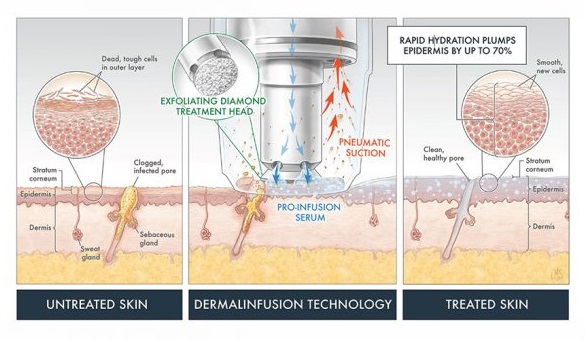 Precision-Timed Serum Delivery
Dermalinfusion eliminates time gaps between exfoliation and serum application with an exclusive simultaneous infusion technology. By infusing the skin with serums at the moment of exfoliation, the patient's skin experiences maximum penetration of active ingredients at optimal skin depth.
The key to the Dermalinfusion technology lies in its line of specifically formulated, professional strength Pro-Infusion serums. Each serum is the product of advanced research in skincare science and is designed to address a specific skin condition. Treats head-to-toe.
Benefits of SilkPeel Dermalinfusion
Non-invasive
Quick treatment (30 to 40 minutes)
Safe
Treats oily skin and acne
Brightens and rejuvenate skin
Treats dry and dull skin
Is SilkPeel Dermalinfusion for Me?
SilkPeel Dermalinfusion is suitable for all skin types, including individuals that have sensitive skin. The treatment exfoliate dead skin and gets rid of impurities on the skin without harsh chemicals and procedure. The range of services offered by SilkPeel Dermalinfusion includes treating excessively oily skin, acne, wrinkles uneven skin tone, dull and dehydrated skin. If you have one of these problem, then yes, this treatment is for you. SilkPeel Dermalinfusion treatment skips painful experience and uncomfortable sensation of waiting out through recovery after the procedure.