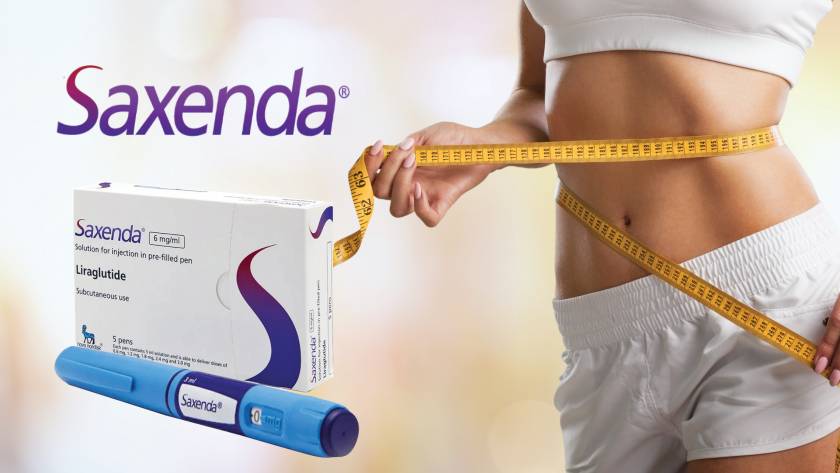 Saxenda contains liraglutide. It's a prescription only injectable medicine designed to help overweight individuals lose weight effectively and maintain the body weight. Saxenda has a mechanism of action that is similar to the glucagon-like-peptide (GLP-1) hormone you're your bodies produce to regulate appetite. It works by activating specific areas of brain that regulate our appetite, increases the feeling of fullness and satiety, which can lead to lower calorie intake and weight loss.
The clinical trials for Saxenda weight loss injections show great benefits for the people who have unwanted fat deposits in the body. Our patients who had tried it have experienced a significant change in their body in a short time. Reducing your waistline isn't the only impact of weight loss. Losing weight and keeping it off can reduce other obesity related health complications such as heart disease, stroke, high blood pressure, diabetes and a shorter life span.
Saxenda is indicated for overweight adults (BMI ≥27) who also have weight-related medical problems such as high blood pressure, diabetes and high cholesterol or adults with obesity (BMI ≥30). It is best to combine it with a low-fat diet and an increased physical activity. When used continuously, a person can experience regular weight loss effects!
Saxenda is a self-administered injection and only injected once daily under the skin in the abdomen, thighs and upper arms as directed. You will start with a low dose and increase over the next few weeks. You should not inject this medicine directly into your vein or muscle and never share your Saxenda injection pen with another person.
Like all good things, these weight loss shots come with some down-sides. Common side effects includes nausea, vomiting, fatigue, headaches, constipation, and diarrhoea that usually goes away over time. There's a dosing schedule that should help minimise the negative symptoms. There are other less common side effects associated with Saxenda, these will be discussed with you during your consultation.



Saxenda (liraglutide) injection 3 mg is an injectable prescription medicine used for adults with excess weight (BMI ≥27) who also have weight-related medical problems or obesity (BMI ≥30), and children aged 12-17 years with a body weight above 132 pounds (60 kg) and obesity to help them lose weight and keep the weight off. Saxenda should be used with a reduced calorie diet and increased physical activity.
Saxenda and Victoza® have the same active ingredient, liraglutide, and should not be used together or with other GLP-1 receptor agonist medicines.
It is not known if Saxenda is safe and effective when taken with other prescription, over-the-counter medicines, or herbal weight-loss products.
It is not known if Saxenda is safe and effective in children under 12 years of age.
It is not known if Saxenda is safe and effective in children aged 12 to 17 years with type 2 diabetes.
Saxenda addresses one of your body's natural responses to weight loss.
Your body naturally produces an appetite hormone known as glucagon-like-peptide (GLP-1) that helps to regulate your hunger
Saxenda works like GLP-1 by regulating your appetite, which can lead to eating fewer calories and losing weight